En 2021, Square Enix et le studio Alim (Brave Frontier, Final Fantasy : Brave Exvius) lançaient le premier jeu d'une nouvelle série de RPG : Voice of Cards. On ne s'y attendait pas forcément, mais alors que ce premier épisode, Voice of Cards : The Isle Dragon Roars, est sorti il y a environ cinq mois, un second volet a déjà été annoncé et il sortira même très bientôt. Intitulé Voice of Cards : The Forsaken Maiden, il sera donc disponible dès le 17 février prochain uniquement en téléchargement sur Nintendo Switch, PlayStation 4 et PC via Steam. Les précommandes viennent de débuter et comme le premier jeu, le prix est fixé à 29,99 €. Il y a aussi un pack avec des DLC coûtant 36,99 € que nous détaillons ci-dessous. Les sous-titres seront disponibles en français et le maître du jeu est cette fois-ci joué par le célèbre seiyuu Show Hayami en japonais et par Mark Atherlay en anglais.


Voice of Cards : The Forsaken Maiden signe le retour de l'équipe à l'origine du premier jeu. Il y a donc directeur créatif Yoko Taro (créateur de Drakengard et NieR, mais aussi plus récemment de SINoALICE), le directeur musical Keiichi Okabe (fondateur du studio de production de musique MONACA et compositeur pour une grande variété de jeux vidéo et d'anime, tels que Tekken, toute la série NieR, Drakengard 3, Working!!, Yuki Yuna Is a Hero, Garo : The Carved Seal of Flames, Crimson Moon et Divine Flame, SINoALICE et bien d'autres), le producteur exécutif Yosuke Saito (qui travaille avec Yoko Taro depuis Drakengard 2, toujours sur la production) et le character designer Kimihiko Fujisaka (Drakengard, Terra Battle, Bakumatsu Rock, The Last Story, Roy dans Fire Emblem : Awakening, plusieurs personnages dans Heroes et Melissa dans Another Eden : Le Chat au-delà du Temps et de l'Espace). Alors que Yuuki Matsuo s'occupait du scénario pour le premier jeu, cette fois-ci, on nous mentionne Yuki Wada. Le réalisateur reste cependant Maasa Mimura (Final Fantasy : Brave Exvius). Il est important de noter que les autres compositeurs accompagnant Keiichi Okabe n'ont pas été cités par Square Enix. Pour le premier jeu, il s'agissait de Shotaro Seo et Oliver Good de MONACA. La bande originale avait été publiée en novembre dernier.




Tout d'abord, il faut savoir que Voice of Cards : The Forsaken Maiden n'est pas la suite de Voice of Cards : The Isle Dragon Roars. Square Enix précise bien qu'il est tout à fait possible de jouer aux deux titres indépendamment. The Forsaken Maiden, comme pour le premier épisode, a la particularité d'avoir une aventure racontée sous la forme de cartes uniquement, comme dans des jeux de rôle que l'on retrouve sur papier ou dans des livres. On nous promet une histoire touchante avec un monde beau et mélancolique. Elle se déroule dans un lointain archipel qui a été placé sous la protection de prêtresses depuis des générations, mais qui est désormais menacé de destruction. Le héros que l'on incarne, Barren, a juré de sauver les habitants de cet archipel et décidé d'embarquer en haute mer avec Laty, une jeune fille qui n'a pas pu devenir prêtresse.
Tout au long de leur épopée, le jeune homme et l'héroïne seront aidés par des esprits, dont Lac qui les accompagnera partout, et rencontreront une jeune fille provenant d'un sanctuaire ainsi que son serviteur et bien d'autres personnages. Bien évidemment, au niveau du gameplay, les batailles se feront au tour par tour où jusqu'à quatre personnages pourront participer. Il sera d'ailleurs possible, comme dans le premier jeu, de jouer à quatre en local via des mini-jeux. Lorsque plus d'une personne jouera, on pourra faire passer une seule manette Joy-Con entre chaque joueur. Enfin, l'écran tactile sera compatible en mode portable.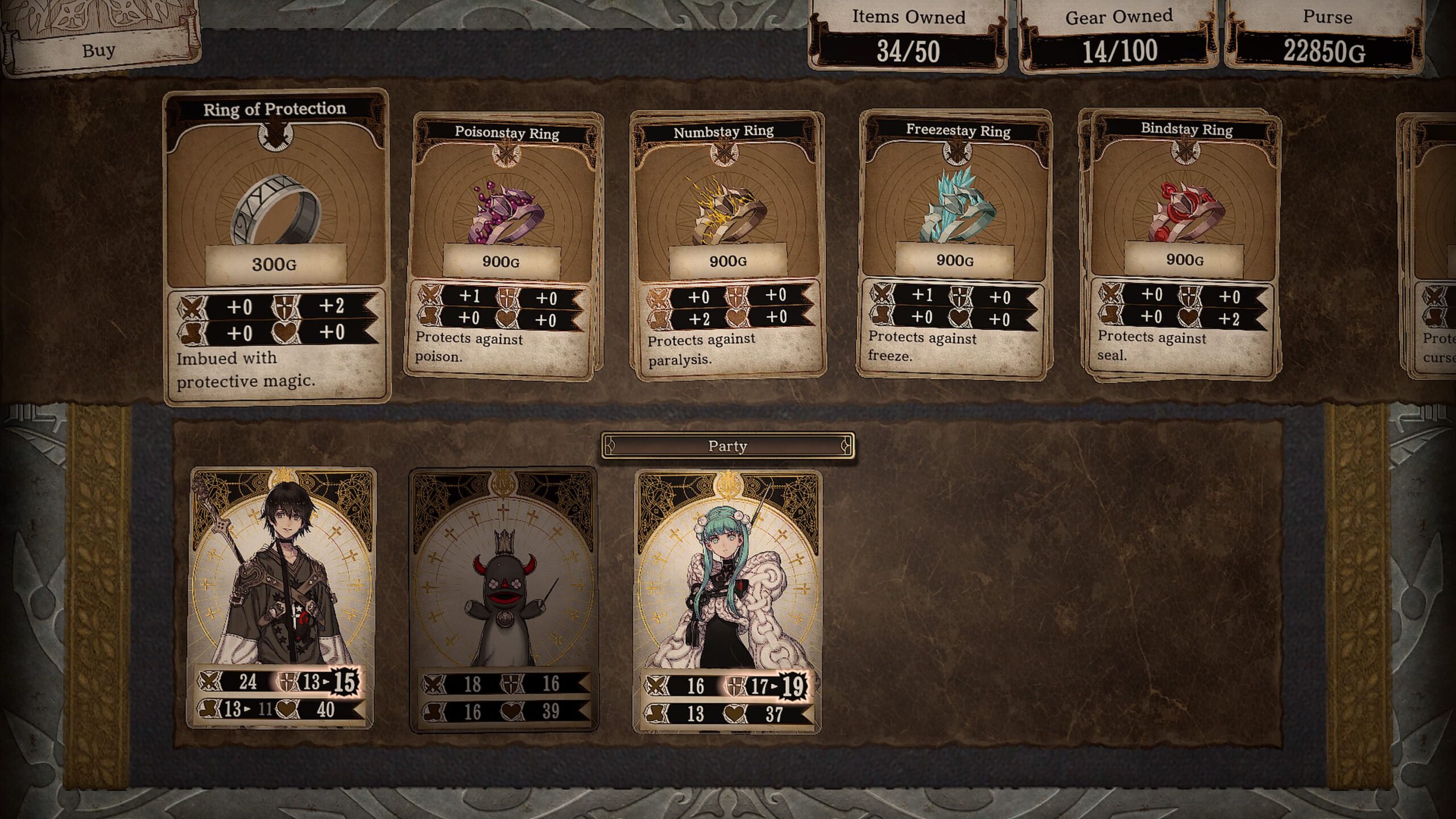 Le lot jeu + DLC set à 36,99 € comprend les éléments suivants (les DLC coûtent 0,99 € à l'unité, à l'exception des deux derniers qui coûtent 2,99 €) :


À noter que pour toute précommande sur Switch ou Steam, Square Enix offrira en DLC le Motif de baleine porte-bonheur (appliquant l'image d'une baleine légendaire portant bonheur à ceux qui l'aperçoivent au dos des cartes) et la Table marine carrelée qui débloquera un nouveau plateau de jeu inspiré de l'océan. Square Enix indique que ces objets bonus pourront être disponibles en promotion ou gratuitement plus tard.
par Klaus
le 5 février 2022 à 1:30
Partager sur
3 janvier 2023 15:00
2 janvier 2023 15:00
1 janvier 2023 11:00
31 décembre 2022 11:00
30 décembre 2022 15:00
29 décembre 2022 15:00
28 décembre 2022 15:00
27 décembre 2022 15:00
26 décembre 2022 15:00
25 décembre 2022 11:00
19
Nintendo Switch – Action Puzzle Aventure – Toge Productions Chorus Worldwide – Mojiken Toge Productions
19
Nintendo Switch – Action Shoot them up – Phoenixx Inc. – Neotro Inc.
19
Nintendo Switch – RPG – SEGA – P-Studio Atlus
19
Nintendo Switch – RPG – SEGA – P-Studio Atlus
19
Nintendo Switch – Aventure – Shueisha Games – Tasto Alpha
20
Nintendo Switch – RPG – Nintendo – Intelligent Systems
2
Nintendo Switch – Shoot them up – WSS playground PLAYISM – Team Ladybug WSS playground
14
Nintendo Switch – Aventure – Gearbox Publishing – Casus Ludi
L'actualité des jeux vidéo Nintendo : tests Nintendo Switch et 3DS, news Nintendo Switch et 3DS, forums… blabla …
Notre forum
Nous contacter
Nous rejoindre
Faire un don
Plan du site